With 302 guest rooms, including 32 Quintessential California Bungalows, Fairmont Miramar Hotel & Bungalows offers the ultimate Hollywood Hideaway.
Set in the secluded Miramar Gardens, surrounded by serene waterfalls and pathways, the Bungalows are ideal for those looking for an urban retreat. With a private entrance, upgraded amenities and private patios, the Bungalows are a home away from home. Guests enjoy priority seating at Chef Ray Garcia's market-driven bistro FIG and the seasonal Miramar Beach Club. Just steps away from the surf, sand and sites of Santa Monica, Fairmont Miramar offers the perfect beach getaway.
Nestled within the luxurious Hotel & Bungalows, the intimate exhale Santa Monica studio and spa offers the perfect Pacific coast hideaway for hotel guests and LA residents alike. Plan your visit to Fairmont Miramar Hotel & Bungalows and exhale Santa Monica today to enjoy special spa and mind body offers, available exclusively to hotel guests.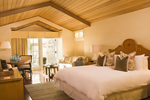 The Fairmont Hotel features:
302 rooms, suites & signature bungalows
FIG Restaurant
The Bungalow Lounge
Fiber-optic Internet
Swimming pool & whirlpool
24-hour room service
House Car
Business Center
Meeting Space
Seasonal Miramar Beach Club